Britain in treasure-hunting boom
POSTED: 22 Dec 2015 ● BY admin
Is there a fortune buried in your back garden? As metal detector sales soar, we join Britain's treasure-hunting boom.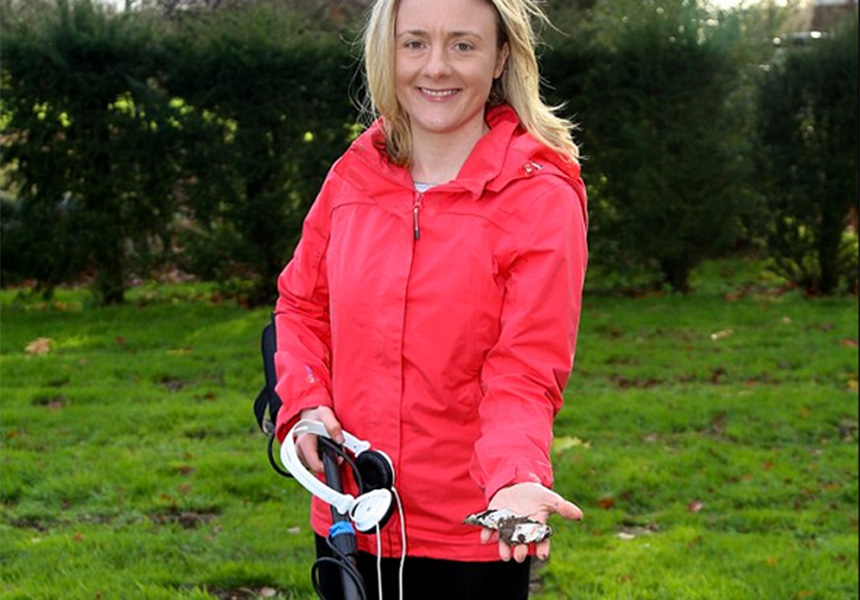 Plodding through a muddy Norfolk field, I'm shivering as a biting wind blows off the Fens. My arm aches from the weight of a heavy metal detector.
I'd love to walk faster to get warm — but I can't as I have to pain-stakingly sweep every inch of the ground with the device.
Move too quickly and I could miss the find of a century.
I've come to East Anglia to see if I can get rich from buried treasure under its pancake flat fields.
According to government figures, 2014 was a bumper year for treasure finds in Britain with 1,008 precious items discovered around the country — the highest since 1996.
Norfolk topped the table with 226 items uncovered in 2013 and 2014. It's why the county has become a huge draw for treasure hunters.
And more than 90 per cent of the items across Britain were discovered by metal detectors, according to figures from the Department for Culture, Media and Sport.
I've been trawling the field for what feels like an age, but I've not even heard the faintest beep from my metal detector.
Kevin Elfleet, chairman of the West Norfolk Metal Detectors, who is showing me around, explains that sometimes people comb the same patch of muddy ground for days on end before they find a thing. My heart sinks. I'm ready to give up, but then my metal detector gives a beep.
'You've found something,' says Kevin. I swish the device across the grass to pin down the exact spot from where the beeps are loudest.
Kevin grabs a spade and begins to dig. He pulls away a clod of earth. Something glistens.
Is it gold? No. It's silver. Kevin pulls away the earth. It's large, so not a coin. And then it becomes clear . . . it's a battered can of shandy, circa 1985.
My fortune will have to wait for another day.
Britain is undergoing a metal detecting boom. Membership of metal detecting clubs has exploded in recent years, sparked by the popularity of TV shows such as Time Team and the comedy show The Detectorists, which revolves around the lives of members of a fictional Essex metal detecting club.
Earlier this year electronics chain Maplin reported how sales of its metal detectors — ranging from just £12.99 to £550 — have soared by 80 per cent.
So famed is Norfolk in metal-detecting circles that tourists will come from as far afield as the U.S. and Canada to hunt for treasure.
Some are drawn to the county by legends, such as that of King John, who is rumoured to have lost the Crown Jewels, along with gold and money, while travelling between Lincoln and King's Lynn in the 13th century.
Over the past year, metal detectors have uncovered more than 15,000 historical items ranging from Neolithic axe heads to 19th-century thimbles, the tomb of a Saxon warrior to masses of ancient coins.
Some are snapped up by local museums and collectors, others are kept by the finders as souvenirs.
The biggest find in Norfolk is the Snettisham Hoard, the richest collection of Iron Age treasure ever to be found in Britain.
This mass of neck rings, ingots and coins was uncovered by a farmer ploughing a field in the Forties around 13 miles from King's Lynn. Archaeologists thought there was nothing left.
But then in 1990, a local man searching the same fields with his metal detector uncovered another golden hoard, then valued at £26million.
It is understood the man accepted an undisclosed reward for the find and it was taken to the British Museum.
But you don't have to find a huge haul to earn cash — even tiny coins can be valuable.
Some treasure hunters search in the hope of discovering a Coenwulf Penny. The coins, which are the size of a 10p piece, are named after an ancient ruler of East Anglia during whose reign they were minted. One which was discovered in 2006 on a Bedfordshire river bank by a metal detector enthusiast sold for £357,000. Experts believe many are lurking under Norfolk soil.
Other recent discoveries include an Anglo-Saxon pendant, found last year in a south Norfolk field, which is estimated as being worth tens of thousands of pounds. Someone also found 30 Roman coins, each worth up to £200.
Back at his house, Kevin shows me some of the items which have been uncovered by fellow club members in recent years.
He opens a box and inside shine scores of coins, mostly dug up from farmers' fields.
Even though some of them are thousands of years old, they are not particularly valuable and are widely on sale on the internet.
'In the past, there were no banks and keeping your money in a mud hut was simply an invitation to have it stolen,' says Kevin. 'So people would bury their savings in the ground.
'If they died or were taken prisoner in battle, they would never recover the cash.'
The first coin that catches my eye is gold and the size of a 1p piece. An engraving of a leaping horse is embossed on the face. It looks almost new. But it dates from the Iron Age, perhaps as far back as 30 BC.
It's possibly one of the first coins minted in Britain and the last person to use it lived more than 2,000 years ago.
It is known as a gold Stater and was far more valuable than bronze or silver coins. Today you can buy one for a few hundred pounds on eBay.
Kevin has lots of other coins, but even Roman ones are worth as little as 99p.
He also has a whole host of everyday items, for instance a pair of Roman tweezers more than 1,500 years old.
'A coin is nice to look at, but it's the things that tell you about someone's life that are priceless. When you hold those objects you can feel history in your hands,' says Kevin.
A few weeks ago a club member found an intricately decorated bronze bowl in a remote field.
It later emerged the bowl had been made in Egypt in the sixth century. Another previously discovered in Britain was found in the grave of a Saxon warrior. But with the success of metal detecting has come a new kind of threat.
Kevin tells me rogue treasure hunters nicknamed 'nighthawks' are a growing menace.
They follow metal detectors to the site of a find then return in the night to dig it up.
'The nighthawks come from all parts of the country and just plunder the fields,' says Kevin.
'The first the metal detectors know about it is when they return the next morning and find that the field is full of holes.
'It means we have to be so careful about giving away the locations of finds because we know they'll be targeted next.'
The nighthawks normally sell on their finds to dodgy dealers.
If they're caught trying to flog undeclared treasure, they face a £5,000 fine and a jail sentence. The item is also confiscated.
If it can be proven the dealer knew the item was undeclared treasure, they could also face prosecution.
For centuries Norfolk was an economic hub for the rest of the country. In addition the region's farming history meant it was wealthier than other places.
And another reason Norfolk is the treasure capital of Britain is the way items are logged.
While in some parts of the country academics are sniffy about hanging out with a metal-detecting group, Kevin tells me that in Norfolk archaeologists meet up with his club and sift through their finds.
If the artefacts are deemed to be of historical interest, they go on to the Government's Portable Antiquities register — a giant database of millions of items.
Archaeologists look at every find to decide whether it's rare or old enough to be registered or should be declared as treasure.
Roughly speaking, for an item to earn this title it must be more than 300 years old, with at least 10 per cent of its weight a precious metal.
Only coins that fit this description and which have been found in groups of two or more are classed as treasure.
If the item is not deemed to be treasure than the finder can take it for themself, with the permission of the landowner.
The exception is if the item is found on a beach in the area between high and low tide.
Then it is deemed to belong to the Crown and you must report it to the Crown Estates or face prosecution.
Once an item is declared as treasure, a lengthy process begins. It has to be reported to the coroner's court within 14 days. The coroner will decide if the item really is treasure or not.
It is then sent to a valuation board, staffed by dealers and archaeologists. They put a value on it and offer it for sale to museums.
If a buyer is found, the sale price is split between finder and landowner.
If it is not sold, the landowner and the finder will have to battle out who takes it home.
The landowner is always entitled to half of the value of the discovery when it is sold.
ou can appeal the valuation board's finding, but in some cases this has led to finders being offered less.
And there have also been spats between metal detectors operating in the same field over who actually made a crucial find.
Earlier this month, two metal detectors were told by a coroner they would have to fight it out over who was the finder of a hoard of 1,600 silver Roman coins discovered in the New Forest, worth at least £8,000.
So despite spending most of their time on their own in a muddy field, a treasure hunter's lot can involve drama.
Andrew Rogerson, one of Norfolk's archaeologists, says:
'When you look at items in a museum it's easy to forget the amount of hard work outdoors in freezing temperatures that has gone into finding it.

'If you went into metal detecting to find bling and not for the joy of it you'd give up out of frustration.'
On the train home I dig my still icy fingers into my bag and come across my battered old shandy can and realise I couldn't agree more.
Share this Article